We Repair Foundations in Bellingham Permanently
Eliminate worry and safety concerns by permanently fixing your home's foundation

Rescue Your Property's Value
Foundation settlement/settling, left unchecked, will cause additional damage to your home. Fixing your foundation saves you thousands on expensive repairs in the future.
Done Right The First Time
"Good enough" isn't a part of our vocabulary. You can be confident the repair is done right the first time. Our 100% satisfaction guarantee ensures any future concerns are taken care of.
The structural integrity of your home is of utmost importance. Let us eliminate any uncertainty and permanently repair your foundation. We give you peace of mind that your home is on a solid foundation.
Your Home May Be At Risk.
Are you . . .
Experiencing uneven floors, cracked or bowing walls, windows and doors sticking, or cracks in your foundation?
Worried your home will fall in value?
Not sure if need your foundation repaired?
It doesn't have to be this way.
We help people in and around Bellingham. . .
Determine if they need foundation repair
Get peace of mind, knowing their foundation is secured
Recover the value of their home, by permanently fixing their foundations.
Prevent further damage to their home
Schedule your FREE Foundation Check in Bellingham Today

1. Schedule a Free Foundation Assessment
Your home's foundation may be compromised. We'll take accurate measurements and make observations to determine your foundation's condition.

2. The Solution
We will provide you with a solution detailing the process, costs, and timeline to restore your foundation.
3. We Go To Work
Our team permanently restores your home's foundation, protecting your important asset.
Trusted By The Following Companies
"Thank you for the time and care you provided to my home. While no journey is without its trials, I appreciate your willingness to stay engaged and resolve the inevitable issues in a matter focused on mutual respect and understanding. The end result is truly remarkable and one that my friends, my family, and I will enjoy for years and years to come. 
– Cristofer H.
5 Things To Know BEFORE Starting Your Project
Don't put yourself at risk.
After reading this guide, you'll:
Learn why self diagnosis can lead to disaster

Have key questions to sort through companies you interview

Know how to alleviate the headaches of dealing with local regulations and laws (this stuff isn't on Google)
Learn what a Geotech and Structural Engineer is, and why they're essential to foundation repair success
Just tell us where to send it!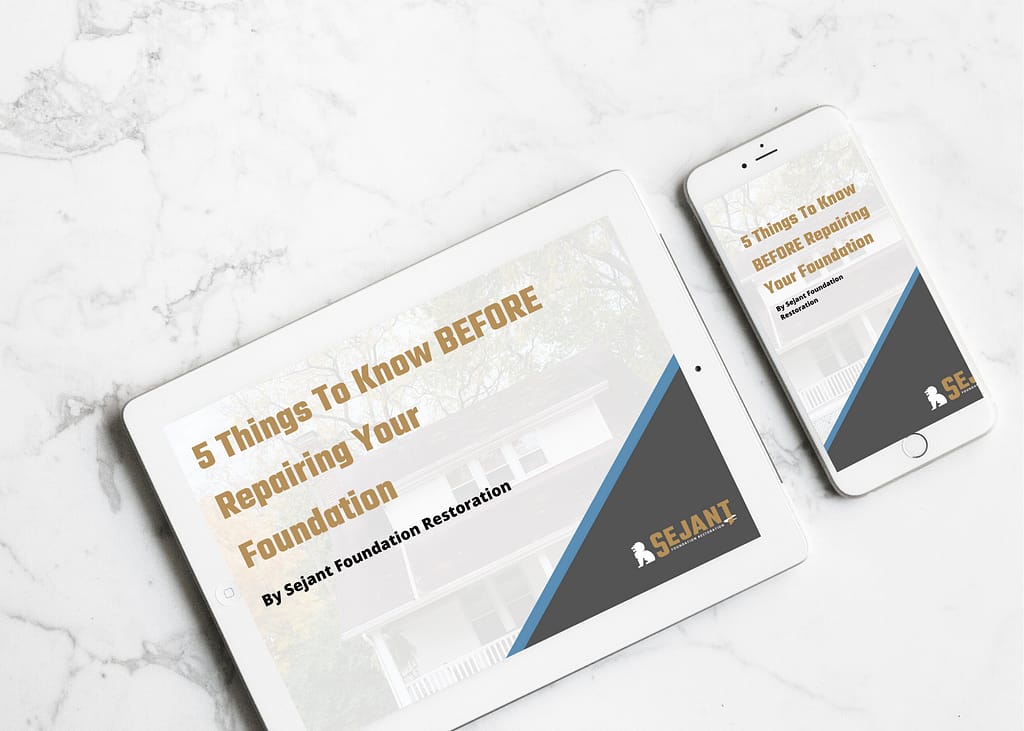 Schedule Your Free Assessment
Is your foundation at risk? Maybe. Until we've performed our assessment, it's impossible to say.
Schedule your free assessment, and we'll find out if your foundation is in need of repair.
What Makes Sejant So Different?
In a word? Integrity.
We seek to understand each of our clients specific needs, so we can provide them with exactly the right solution. No half-fixes, no partial solutions. For our customers, that means no more late nights worrying, no more wondering if your foundation will get worse. Every job we take, we do it once, and do it right.
Since 2009 we've been providing Northwest families and businesses peace of mind, knowing their foundation is fixed right the first time. In our 40+ years of experience in the construction industry, we've saved our customers thousands of dollars by catching problems early and fixing them quickly.
Don't ignore the problem with a temporary fix. Do it right the first time.